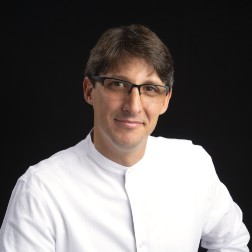 MIGUEL ORTIZ, DDS
REVISED Seminar Schedule:
8:15am - 9:45am:
Introductory remarks & LECTURE
9:45am - 10:00am:
15 minute break
10:00am - 11:15am:
LECTURE continues
11:15am - 11:30am:
Q&A
11:30am - 12:15pm:
Lunch break
12:15pm - 1:30pm:
LECTURE continues
1:30pm - 1:45pm:
15 minute break
1:45pm - 3:00pm:
LECTURE continues
3:00pm - 3:30pm:
Q & A

Break Down
Adhesion Theory Part 1
An in depth and state of the art scientific session covering the latest research and understanding of dental adhesion. From tooth embryology and development to the adhesion generations.
Learning Objectives:
Understanding the process of dentin and enamel formation to the molecular level.
Reviewing the history of dental adhesion
Recognizing that there is a superior adhesion protocol based on scientific research.
Adhesion Theory Part 2
Once the optimal adhesive protocol has been discussed, we will delve into the science of improving the protocol. Which techniques and methods can prolong the life of the bonding interface? We will also cover the true science behind the use of rubber dam.
Learning Objectives:
Learning the different ways an adhesive protocol can be improved.
Choosing which improvements to add to your protocol.
Discussing the Scientific truth behind the use of rubber dam.
Cad Cam Dental Materials
During this session we will classify, test and differentiate among all of the Cad Cam dental materials on the market. Even if you don't have a milling unit in the office your laboratory does and they are milling everything. This is why Cad Cam dental materials are the most important materials in dentistry today. We will cover everything you need to know about them and we will discover that there is enough Dental Literature to support the choice of one vs the other.
Learning Objectives:
To categorize all Cad Cam dental materials.
To Understand their composition and testing methods.
To select the 4 materials that are scientifically superior to others for clinical use.
The Neuroscience of Dentistry
Many lectures on "color theory", "Shade Taking", "Lab Communication", etc. do NOT consider the human brain as a natural limitation. This lecture may entirely change your understanding of color theory, perception, evaluation and communication.
Learning Objectives:
To realize how the color perception system works in humans.
To understand the significant limitations of this.
To evaluate the different devices and systems used to communicate with the laboratory.